Larry D. Olson, P.E.
President and Chief Engineer, M.S.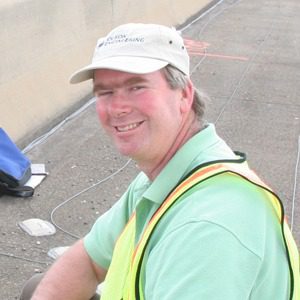 Mr. Olson is the sole owner of Olson Engineering and co-founded the company as its President in 1985 in Denver, Colorado and is internationally recognized as a leader in nondestructive evaluation of structures and infrastructure. Mr. Olson has over 35 years of consulting experience in structural condition assessment, geotechnical, pavement, materials, geophysical and vibration engineering. He has conducted and/or reviewed as the Chief Engineer over 4000 projects to investigate the condition of bridges, buildings, dams, foundations, pavements and tunnels. He is a registered Civil Professional Engineer in 21 states and the District of Columbia. He started Olson Instruments, Inc., as a division in 1993 and incorporated it in 1995 to provide instruments for nondestructive evaluation and geophysical engineering for structural and infrastructure applications. After 31 years of working from Denver, Mr. Olson moved to northern Virginia and established our mid-Atlantic office (metro Washington, DC) in 2011 to bolster Olson Engineering's presence in the eastern corridor along with our Rutherford, New Jersey (metro New York City) office that was established in 2005. He regularly speaks and publishes on Nondestructive Testing and Evaluation (NDT&E) and Structural Health Monitoring (SHM) for construction applications and has taught short courses and/or ASCE Seminars on structural and bridge condition assessment nationally and internationally. Mr. Olson obtained his Bachelors in Civil Engineering and Masters in Engineering (geotechnical) degrees from the University of Texas at Austin and was honored in October, 2006 as a distinguished alumni of the UT Civil Architectural and Environmental Engineering Department. Mr. Olson received patents on impact echo scanning and parallel seismic/cone penetrometer testing and has conducted a number of funded research projects on NDE and Geophysics of infrastructure.
---
Dennis A. Sack, P.E.
Senior Vice President and Principal Engineer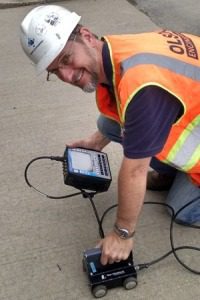 Before joining Olson in 1990, Mr. Sack had been with Northrop Aerospace as a Wind Tunnel Instrumentation Engineer. He earned his Bachelor of Science in Electrical Engineering at Cal State University, Northridge, California Magna Cum Laude and completed all of the course work of the Masters in Electrical Engineering program (Digital Signal Processing) at Cal State Northridge. Mr. Sack has a broad range of experience in NDT and evaluation of structural elements of various materials. He has extensive consulting experience in over 3800 nondestructive evaluation, vibration and geophysical investigations. In addition to his consulting service ability, Mr. Sack has been responsible for the design and development of instrumentation, both hardware and software, for over 20 years to Olson Instruments, Inc. He has designed and built the electronics for the Olson Instruments Freedom Data PC, Concrete Thickness Gauge, and NDE360 Platform as well as associated transducers, pulser units and software for ultrasonic, sonic, seismic, vibration and physical testing measurements. Mr. Sack holds a patent in Scanning Aparatus and Method for Non-Destructive Materials Evaluation and Mapping Through Use of Acoustic Waves. Mr. Sack's responsibilities as Senior Vice President are varied. He manages the NDT Group in the Colorado Office, where he's in charge of the NDT staff and responsible for all aspects of NDT consulting projects. Mr. Sack has prepared and presented a number of papers on a variety of aspects related to NDT of infrastructure, and is currently an instructor for the ASCE seminar on Structured Condition Assessment of Existing Structures. A list of Mr. Olson's PE's, society membership and activities, and publications can be found below.